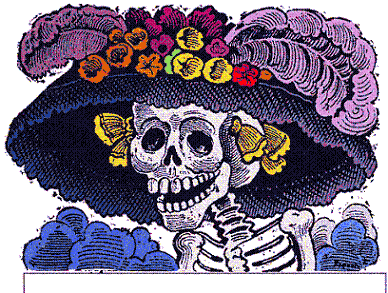 A tradition my grandparents and parents have left me thruout the years.
My grandpa died on november 2000. This year I will be putting up an
ofrenda
or and offering for his soul.
Dia de muertos es una tradicion que mis abuelos y padres me han dejado atravez de los anios, este anio le hare una ofrenda a mi abuelo Silverio que ya van para mas de 8 anios que fallecio R.I.P "abue".Lo amamos mucho y extraniamos ...
En este mundo matraca
De morir nadie se escapa.
Muere el buey, muere la vaca,
Y hasta la mujer más guapa tiene que estirar la pata.
Viene la muerte luciendo
mil llamativos colores
ven, dame un beso, pelona
que ando huérfano de amores.
Se va la muerte cantando
por entre la nopalera,
¿En que quedamos, pelona,
me llevas o no me llevas?...
Dia de los muertos para mi significa mas bien que celebrarle ala muerte, celebrale a la vida, por todos los logros y experiencias que nos deja.
Here is a little video on how to paint your face for Halloween on Halloween, hope you enjoy!
Aqui les dejo un video de como pintar tu cara para el Dia de Muertos, muy creativo!